Baby Frog Costume
This project is rated EASY to do.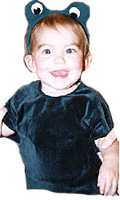 What You Need
Solid green outfit or sweat suit
Headband
Green felt
Scissors
Glue
Very large wiggle eyes
How To Make It
Cut a piece of felt to cover the headband. Note: Glue felt to felt if you want to be able to slip the decoration off and use the headband later.
Cut 4 ovals out of felt. Glue 2 together to create some strength to the felt. Repeat for other 2 ovals.
Glue wiggle eyes on one end of the oval. (see photo)
Glue the oval's opposite end to the underside of the headband. (see photo)
Repeat for other oval.